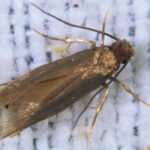 Webbing Clothes Moth larvae can damage wool, silk, animal mounts, oriental rugs, furniture, museum objects and more.  Clothes moths will breed in dark, out of the way places that are undisturbed.
Pheromone traps are a great tool to be used as an integrated approach to pest control.  Pheromones are chemicals an organism produces—in this case a sex attractant—to affect the behavior of other members of the same species.  The sex pheromone attracts male moths into the trap where they get stuck on the sticky sides.  Because the pheromone specifically attracts clothes moths, it won't attract other moth species.
Place traps in closets and other clothes-storage areas. Trapping not only enables you to detect the presence of clothes moths but provides some control, because trapped males can't mate. However, if you trap moths, you should also take other measures, such as dry cleaning or laundering, to protect clothes exposed to moths.  Sanitation, inspection, and removal of infested material are all very important parts of an integrated approach. In order to ensure the highest efficiency, it is recommended that the lures be replaced every 60 days. 
Order your Webbing Cloths Moth Traps today!