controlling the emerald ash borer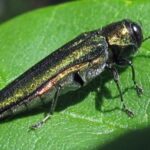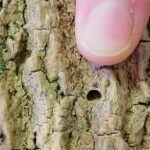 Emerald ash borer (EAB), Agrilus planipennis Fairmaire, is an exotic beetle that was discovered in southeastern Michigan near Detroit in the summer of 2002. The adult beetles nibble on ash foliage but cause little damage. The larvae (the immature stage) feed on the inner bark of ash trees, disrupting the tree's ability to transport water and nutrients.
EAB Insecticide Bulletin June 2009     EAB Multi State Map     Distinguishing EAB vs Native Borers
Prevention is the key in ensuring your trees will not succumb to the emerald ash borer.  Insecticides that can effectively control EAB fall into four categories: (1) systemic insecticides that are applied as soil injections or drenches; (2) systemic insecticides applied as trunk injections; (3) systemic insecticides applied as lower trunk sprays; and (4) protective cover sprays that are applied to the trunk, main branches, and (depending on the label) foliage.
For a systemic insecticide use Envu's Merit 2F Insecticide
For foliage and trunk applications, try Envu's (Bayer) Tempo SC.
For more info on how to use Merit, see the following video from the BackedbyBayer