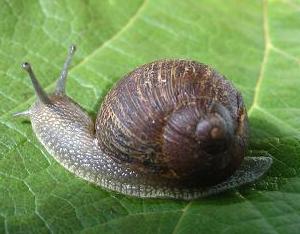 When slugs and snails invade vegetable or herb gardens, however, they can cause major damage, consuming up to forty percent of their weight. Slugs and snails attack seedlings, roots, tubers and young plants, leaving large jagged holes and sticky deposits mainly on the leaves of herbs and garden vegetables.
Slugs and snails are terrestrial molluscs belonging to the Phylum mollusca, which also includes oysters, clams and crustaceans. During the day, slugs and snails hide in cool, dark places, under dead leaves, lumps of earth, rocks, mulch and wooden boards. When dusk falls, they emerge from their shelters in search of food. They are also more active under cloudy conditions or after a light rain. Their period of activity extends from about April to October, after which they hibernate until the following spring.
YouTube video from UC Davis on Managing snails, snail baits & their application below
Control
Sluggo Snail Bait is an awesome molluscicide that helps eliminate snails and slugs. This snail control product contains iron phosphate and remains effective up to 4 weeks. The slug control snail bait breaks down into organic fertilizer and can be used in the garden and around pets and wildlife. The snail control remains effective after rain and works well in cool weather.
Contains iron phosphate to kill snails and slugs
0.5 – 1 lb. treats up to 1,000 sq. ft.
Long-lasting formula remains effective up to 4 weeks, even after rain
Works well in cool weather for versatility
Use in vegetable gardens up until the day of harvest
Safe around pets and wildlife for worry-free application
Breaks down into organic fertilizer
OMRI listed organic
NIBAN Granular Bait is environmentally sensitive and virtually odorless.
Metaldehyde-Free
Delivers significantly greater performance against snails & slugs than iron phosphate
Borate based and formulated with a concern for the environment
Exterior baiting to control and kill snails and slugs in flower gardens and around ornamentals, ground covers and shrubs: At the beginning of the spring planting season (before damage occurs), broadcast 6 ounces per 100 square feet in areas likely to be infested with snails and slugs. It is best to apply the bait during early morning or evening when slugs and snails are present and eating.