Labeled for application on mattresses, upholstered furniture and sofas.
On contact, Steri Fab Kills: Lice, Bed Bugs, Fleas, Ticks, Cockroaches, Dust Mites, Bacteria, Fungus, Mold, Mildew, Viruses, Deodorizes.
Dries In 15 – 20 Minutes And Is Non – Residual.
Ready To Use…..No Dilution Required.
Sterifab is precisely engineered to:
Destroys micro-organisms

Kill fungus

Kill viruses
Kill mold and mildew

Kill germs and disinfects

Destroy pathogenic odors
Plus, it not only reduces the level of microorganisms from a variety of sites, but also functions as a bacteriostatic  ?  inhibiting bacterial growth  ?  and as a highly effective fungistatic, preventing otherwise hard-to-control fungal growth.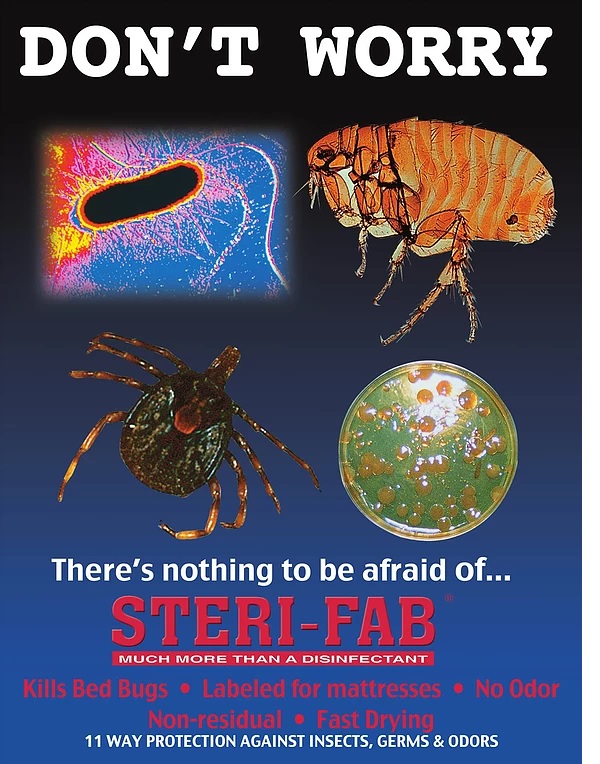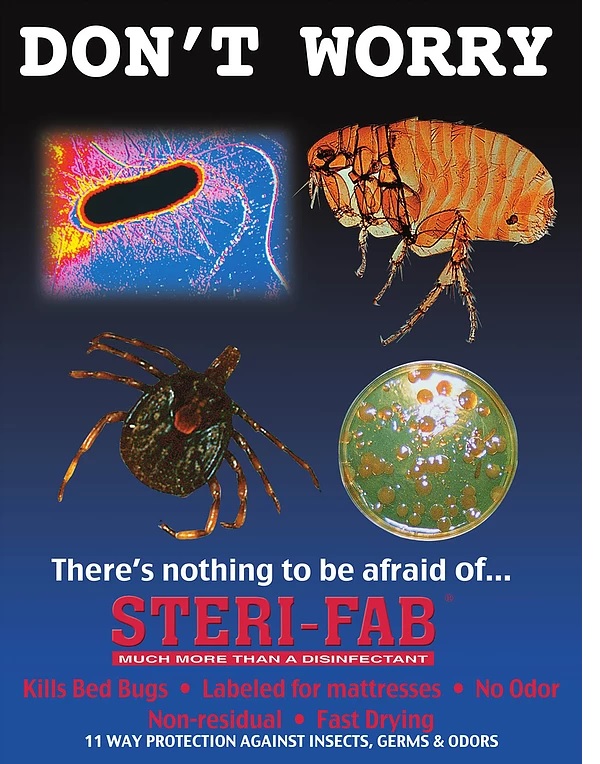 STERI FAB is successfully sold to the following:  SCHOOLS, DAY CARE CENTERS, HOSPITALS, HOSPITAL EMERGENCY ROOMS, AMBULANCE CORPS., HOMELESS SHELTERS, OFFICE COMPLEXES, VETERINARIANS, ANIMAL KENNELS, HOTELS, MOTELS, CHURCHES, RETIREMENT HOMES, DAY CAMPS, SLEEP AWAY CAMPS, DORMITORIES, HOMEOWNERS, TRAILER PARKS, BUS LINES, POLICE DEPARTMENTS, JAILS, PRISONS AND MORE. SANITIZES AND DEODORIZES RESTROOMS. CAN BE SPRAYED DIRECTLY ON FURNITURE, LOCKERS, CABINETS, DRAWERS, CARPETS, CAR INTERIORS, ANIMAL BEDDING/CAGES, BEDS, BUS SEATS/INTERIORS, HOSPITAL WAITING ROOM AREAS, DOCTORS OFFICES, POLICE CARS, PRISONS / HOLDING CELLS, GARBAGE BINS ETC.
Can be sprayed on everything except PEOPLE, ANIMALS AND COOKING UTENSILS.
STERIFAB and its required usage: Upholstered furniture is dependent of size, however a typical couch or sofa will require 10-12 ounces per application.
Every container of Sterifab is bottled with a sufficient amount of tracer that can be observed under a highly magnified UV light.* Using a suitable detection unit, areas that have been treated can be easily identified.
Note: Sterifab must be shaken well before and during applications to insure the the identification crystals are dispersed throughout, so they are applied evenly.
The 16oz bottle includes a spray nozzle, the one gallon jug does not.