Dura-Spike Installation Instructions     Dura-Spike-spec
Dura-Spike Wide is 5″ Wide. It is made for ledges 5″ to 7″ wide.
Dura Spikes from Bird Barrier are 100% stainless steel and are available in three-foot lengths for fast application. The base can be cut easily with snips or shears. It curves gently or takes hard bends to conform to the building's features.
Length: 3-foot strips, ships 102 feet per box
Dura-Spike Bird Spikes are Totally Humane
The blunt tips on the ends of each spike can not hurt birds or humans.
How Dura-Spike Bird Spikes Work
Pigeons and larger birds are not able to gain a foothold on the protected surface and are forced to take their mess elsewhere.
How to Install Dura-Spike Bird Spikes
Use the spacing guides (right) to determine the best model for the application. Clean the surface thoroughly. Secure using liquid nails or other bond, or screw it down.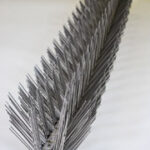 Stacked for easy shipping
3 ft. sections, 102 ft. per box