The FlyWeb insect light is designed for use indoors in residential and commercial areas. Its compact size and direct plugin features allow the light to be placed in any outlet. The FlyWeb insect light uses a Fly and Gnat insect attracting lamp to lure flies or Gnats to the adhesive trapping board. When the glueboard is full of flying insects, simply remove, discard and replace with a new adhesive trapping board.
This Fly Gnat Trap light will lure and capture the house fly, fruit fly, cluster fly, face fly, phorid flies, bottle flies, drain flies, mosquitoes, fungus gnat, moth flies, fruit fly, moths, asian beetles, nats and other flying insects.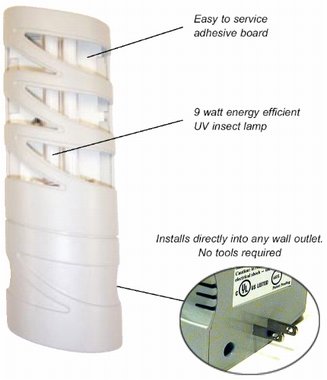 Since 1928, Gardner fly traps has pioneered the manufacture of insect light traps for commercial and industrial applications.
FlyWeb Features:
24 Hour, non-chemical silent trapping
Color is a off white finish
One Disposable 3×5 inch adhesive panel
Covers 600 sq. ft.(20 lineal feet)
9 watts of Ultra Violet Insect Attraction
UL-CUL listed – 115v-60hz, direct plug-in
FDA & USDA accepted under current code
Dimensions: 3.5 in W x 10.5in H x 1.75in D
Insect Management works 24/7 to create an insect-free environment. The FlyWeb light trap is compact (3.5″ wide x 11″ high) and uses a standard 110V plug-in compatible with any outlet. Comes complete, with two extra glueboards. Open the package and plug it in!